Housing continued a strong expansion period this year, with one region in particular boasting the most startling rebound figures, according to reports.
According to Clear Capital, national housing growth achieved 0.6-percent growth quarter-over-quarter. The real-estate data and solutions provider reported the figures in a Home Data Index Market Report it released in May.
Regionally, the West set the pace for housing growth, with a busy season contributing to 0.3-percent rise since April that brought growth figures to 1.2 percent, up from 0.9 percent.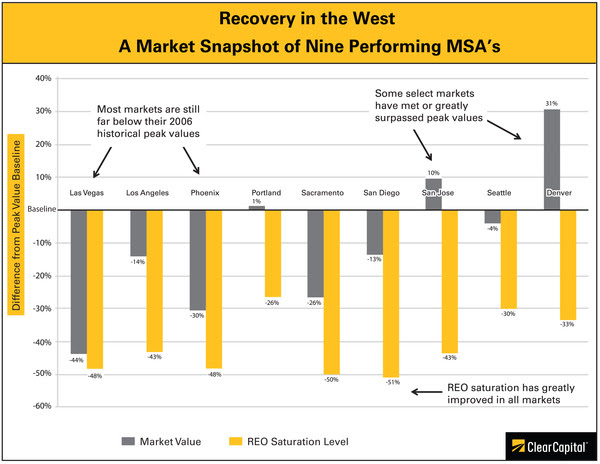 Indeed, of the 15 current best housing markets, nine are based out west. Seattle bested any single market with a 2-percent growth by quarter, reflecting a 0.2-percent growth over the last quarter.
Along the same lines, housing market values in Portland, San Jose and Denver peaked at their highest levels since the Great Recession.
Not every western market peaked this quarter. According to Clear Capital, Las Vegas achieved just more than half of the housing growth its markets last saw a decade ago.
"Real estate market headlines have repeatedly documented the strong, potentially bubble-like recovery of the West over the past couple years, and this continued trend of performance doesn't appear to be going away just yet," Alex Villacorta, vice president of research with Clear Capital, said in a statement.
Elsewhere, the housing market didn't move the needle very far above past quarter-over-quarter rates.
In the Northeast and Midwest, quarterly growth rates inched along at just 0.2 percent.
"While the West as a whole has seen incredible performance since the lows of 2011, comparisons between individual markets like Denver and Las Vegas can be a sobering reminder of the devastating effects of the crash and that some markets still have a long way to go in terms of regaining lost value," Villacorta added.